Monitouch intelligent touch HMI V9080iCD met 8.4 inch VGA display, resolutie 640 x 480.
Met de drie universele communicatiepoorten kunt u de V9080iCD koppelen aan alle gangbare PLC's, regelaars en controllers via Ethernet, RS232/422/485 en MPI. Er zijn 2 USB poorten voorzien voor het snel configureren van de touchscreens en voor de koppeling van andere apparatuur als scanners en printers of voor externe opslag van bijvoorbeeld programma's, recepten, data en afbeeldingen. Met de geintegreerde Micro SD lezer kunt u programma's, recepten, data en afbeeldingen en foto's opslaan.
In de V-SFT programmeersoftware is er een uitgebreide bibliotheek met boomstructuur en "drag en drop" functionaliteit. Hier vindt u duizenden "parts" om te gebruiken in uw applicatie. U kunt zelf uiteraard ook parts toevoegen of importeren en deze opslaan in uw eigen bibliotheek.
Standaard features: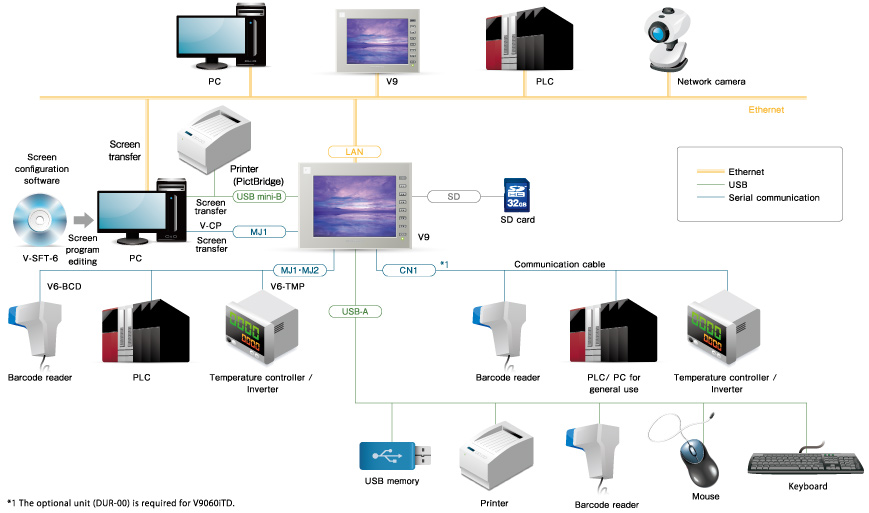 VNC server voor overname/ bediening op afstand via Internet/Ethernet of Wifi
Instelbare contrast en helderheid
Slaapstand
Schakelaars en signaallampen tot 16 standen
Analoge paneelmeters, staafgrafieken, trendgrafieken, taartgrafieken
Slider switches, scroll bars en memo pads
Tonen en verbergen van bedienelementen op basis van waarde of bit
MES interface functie voor koppeling aan databases, Tracking& Tracing
Pop up schermen
Gelijktijdige communicatie via 8 verschillende communicatieprotocollen (apparaten)
Logging en trending van waarden en alarmen
Alarmen en statusmeldingen volgens 8 verschillende benaderingen
Receptfunctie
1 op 1 , 1 op n, n op n PLC verbindingen
Simulator voor het simuleren van een PLC op uw PC
Emulator voor het emuleren van een touchscreen op uw PC
Wizards en standaard component parts
Multilevel passwords
Importeren van afbeeldingen en (CAD) tekeningen
Basic specifications

V9080iC
Power supply
Rated voltage
DC24V
Permissible range of voltage
±10%
Permissible momentary power failure
within 1ms
Demand (maximum rating)
17W or less
Insulation resistance
DC500V 10MΩ or more
Physical environment
Ambient temperature
0~50℃*1
Ambient humidity
85%RH or less (without dew condensation)*1
Operation altitude
2,000 meters or lower
Atmosphere
Not to be exposed to corrosive gas, or conductive dust
Storage temperature
-10~60℃*1
Storage temperature
85%RH or less (without dew condensation)*1
Overvoltage category
Category II
Pollution degree
Pollution degree 2
Mechanical operating conditions
Resistance to oscillation
Complies with JIS B 3502 (IEC61131-2) Vibration frequency: 5-9Hz, pulsating with:3.5mm,
9-150Hz, Acceleration: 9.8m/s2(1G),X,Y,Z: 3 directions (10 times each)
Resistance to shock
Complies with JIS B 3502 (IEC61131-2) Peak acceleration: 147m/s2(15G), X,Y,Z:
3 directions, three times each (18 times in total)
Electric operating conditions
Resistance to noise
Noise voltage: 1,500Vp-p, pulse width: 1μs, pulse rise time: 1ns
Resistance to static discharge
Complies with IEC61000-4-2, contact: 6kV, air: 8kV
Installation conditions
Grounding
Grounding resistance: Less than 100Ω, FG/SG separation
Structure
Front panel:Complies with IP66, Type 4X/13 *2 (when waterproof gasket is installed)
Rear cover:Complies with IP20
Form: Single unit, Installation method: Panel mounting
Cooling system
Natural air cooling
Dimensions W*H*D(mm)
235.0×180.0×48.9
Dimensions W*H*D(mm)
220.5×165.5(+0.5/-0)
Case color
Light gray
(black front housing for black model)
Material
PC resin
*1: Use at a wet-bulb temperature of 39°C or less because higher temperatures may cause failure.
Performance Specifications
Screen memory (FROM)
64MB
Backup memory (SRAM)
800KB
Display
Display device
TFT color LCD
Resolution
640×480
Display size
8.4″
Colors
16.7 million *3
Backlight
LED
Backlight life
70,000 hours
Touch switch
Type
Analog resistance film
Function switch
Quantity
8
External interface
D-Sub 9-pin (CN1)
RS-232C/ RS-485(2-wire system)/ RS-422(4-wire system),
Asynchronous type, Data length: 7,8 bits, Parity: even, odd, none,
Stop bit: 1, 2 bits, Baud rate: 4800, 9600, 19200, 38400, 57600, 76800, 115200, 187500*4 bps
Modular 8-pin
(MJ1/ MJ2)
RS-232C/ RS-485(2-wire system), Asynchronous type,
Data length: 7,8 bits, Parity: even, odd, none, Stop bit: 1, 2 bits,
Baud rate: 4800, 9600, 19200, 38400, 57600, 76800, 115200 bps
SD card
One card slot provided as standard
Ethernet
1ch,
Baud rate: 100Mbps, 10Mbps
Wireless LAN
–
USB
Type A、Type mini-B(Ver.2.0)
Sound output
–
Clock
Backup period
5 years (Ambient temperature 25°C)
Calendar accuracy
Gap ±90 sec. per month (Ambient temperature 25°C, when power is not supplied)
Standard
CE marking
EN61000-6-2,EN61000-6-4
UL・cUL*5
UL61010-1、UL61010-2-201
KC*6
Compliant
Radio Act
–
Classification Standard
–
*2: Hardware of Ver. b or later.
*3: For displaying pictures, 3D parts,video, and RGB input (excluding high-speed mode) only. Other parts are displayed in 65,536 colors.
*4: Only for Siemens MPI (Incompatible with DUR-00).
*5: Only for Hardware Ver. f or later. Applicable standard for Hardware Ver. a to e is UL 508.
*6: Black model not certified